When you hear the phrase IT, you probably think of the techies at your company who fix the computer issues.
In reality, IT, or Information Technology, is much more than that. According to the Online Etymology Dictionary, the term "information technology" has been around since 1958. With each year, technology encompasses more and more of our daily lives, so what IT once meant has evolved over time.
If you're interested in learning more about IT, just keep reading!
What is Information Technology?
You would be hard-pressed to find a company that doesn't at least partially rely on computers, IT software, and the networks that connect them during their day-to-day tasks. Simply put, most businesses and organizations would crumble without functioning IT systems. So, what exactly is information technology?
Information Technology definition
Information Technology, or IT, is the study or use of computers and telecommunications to store, retrieve, transmit, or send data.
The term IT is commonly used as a synonym for computers and their networks, but it also encompasses other information distribution technologies, like television and smartphones. Essentially, IT refers to anything related to computing technology.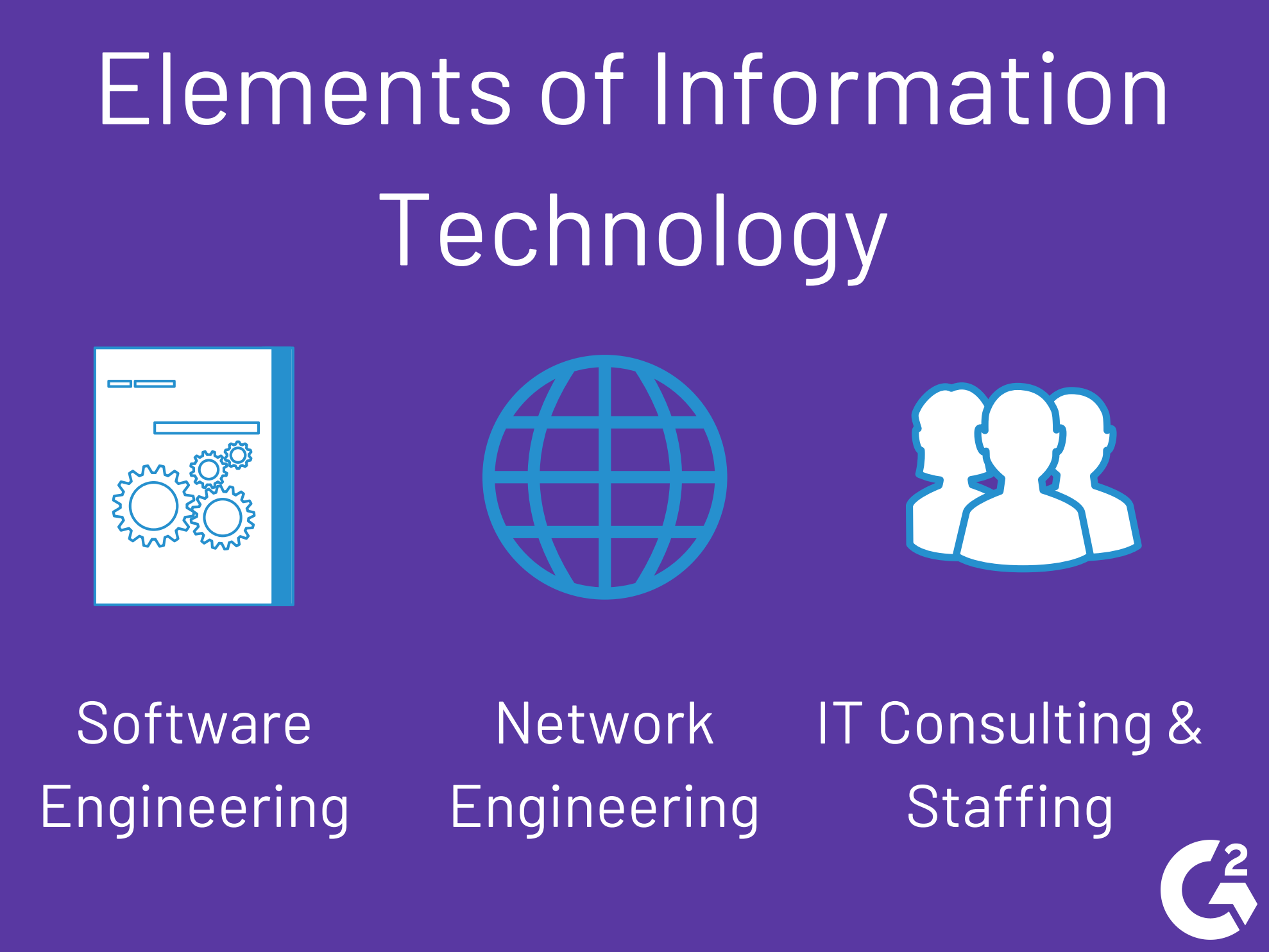 Uses of Information Technology in business
Whether you work in a large or small business, Information Technology is going to play a large role in your day-to-day tasks. Businesses tend to use IT in three main ways: to support basic information processing tasks, to help with decision-making, and to support innovation.
For instance, when it comes to information processes, IT is used to streamline tasks from computing and printing payroll to creating presentations. IT also supports building websites for products and services.
When it comes to decision-making tasks, businesses should use IT to understand metrics like which customers have overdue accounts or when customers are showcasing shopping cart abandonment.
To support innovation, IT tools in the workplace allow for continued research on topics. Think about where we'd be without the internet. Honestly, it's hard to fathom, but this tool is a vital aspect of information technology.
Uses of Information Technology in society
As a society, we have taken the steps to embrace IT more than ever before. We see it almost everywhere, but especially with online education, social networks, smartphones, job creation, agriculture, and entertainment.
One of the many segments that have changed within our society is the introduction of schools without boundaries. Thanks to IT, students can learn from anywhere there is an internet connection, no matter where they are and what their topic of interest is. The same can be said for those working remote for their place of work, as IT makes this easier than ever before.
IT is also bringing society leaps and bounds ahead of communicating and having relationships with others. Whether it be keeping up with college friends on Facebook or finding love on Match.com, Information Technology makes this all possible.
Information Technology examples
Whether you find yourself in a conventional workplace or not, you are bound to encounter and use Information Technology in varying aspects of your life. Some that you may encounter include:
Telephone and radio equipment
Performance management software for managing goal setting and performance review
Software for word processing and spreadsheets
Video conferencing equipment
Personal computers
Content management software for blogging and collaboration

Information Technology jobs

When it comes to growing careers, jobs in Information Technology are skyrocketing. The field of IT encompasses a wide range of career paths, with some being more popular than others. Responsibilities range from keeping systems and data secure to making sure networks are up and running.

No matter the role, those who work in IT need to be able to solve technology problems, both big and small.