Rabindranath said, 'The foreign writers of whom you often speak of Mopassan, received ready-made language. I don't know what would happen to them if they had to create a language to write.'
The lines of prose creation are found in the writings of the characters in many of Rabindranath's stories.
What Amal used to write in the story 'Nashtneed', 'Amar Khata' – 'O my white book, my imagination has not yet touched you. You are as pure as a child's forehead before the fortune-teller enters Sutikagriha, you are mysterious.'…And in 'Ashader Chand', Amal wrote, 'Why is Asadhar's moon hiding in the clouds all night like this? As if he has stolen something from heaven, as if there is no place to cover his stigma.' etc.
'Unable to avoid Amal's hurdles at last, Charu changed the subject of composition. He wrote a text called "Kalitala" leaving out the moon, clouds, shefali, wife-talk-kao. In their village there was Kalimandir on the edge of the shadow-dark pond, his childhood imagination, fear and curiosity about that temple, his strange memories about it… he wrote an essay about it. At first his beginnings were full of poetry in the style of Amal's writing, but after a little progress his writing became easily simple and filled with the language and manners of Palligram.'
When Charubala's writing was published, articles were published praising the genuine simplicity of Charubala's language, effortless clarity and pictorial skills, criticizing the style of Amal.
That's what Rabindranath meant by saying 'Chot Pran Chot Katha', he said, earlier stories were written about Pratapadityas, he was the first to bring the life of ordinary people into stories. That is a small sad story. Rabindranath is admirable because he speaks small things. Rabindranath is close to me here.
It is not just a matter of Amal and Charu, it bears the mark of Rabindranath's new direction along with the trend of the time. Charubala here like Rabindranath made two discoveries and introductions—one. The story should be taken from the experience of own life, own village, two. Language should also be taken from that life.
Rabindranath did that. That's what Rabindranath meant by saying 'Chot Pran Chot Katha', he said, earlier stories were written about Pratapadityas, he was the first to bring the life of ordinary people into stories. That is a small sad story.
Rabindranath is admirable because he speaks small things. Rabindranath is close to me here. Then take the language. The humor in the language of Rabindranath's stories, if you pay attention, you will understand that it is because of this sense of irony that we read his stories even after so long and we like them. He has written comedy-satire, but don't pay attention to the language of the story.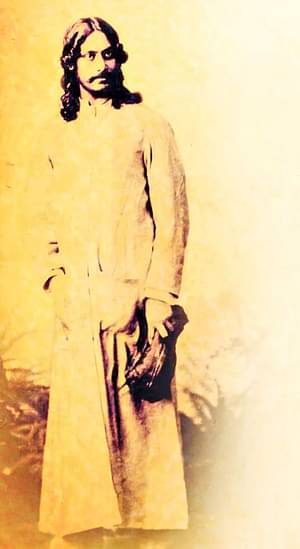 The first line of the story 'Professor', 'Subalchandra's son is named Sushilchandra. But the person is not always like the name. That is why Subalchandra was somewhat weak and Sushilchandra was not very calm.' Or suppose, how the story of 'Holiday' begins, 'A new thought suddenly dawned on the head of the boys, Fatik Chakraborty; On the banks of the river lay a huge log waiting to be converted into a mast; It was decided that everyone would take it together.
'The boys fully approved of this proposal, realizing how much surprise, annoyance and difficulty he would feel when the wood was necessary.'
Note the first lines of the 'last poem', 'Amitar's father is a successful barrister. The amount of money he has accumulated is enough to degrade three subordinate men. But Amit survived this journey without any objection even in the fatal conflict of his ancestral property.'
You can not like the story that tells with jokes like this?
But Rabindranath's novels are very important, not because Rabindranath expressed his valuable thoughts on nationalism or terrorism in them, but that is the high weakness of the novels, they are important because the novels contain the invaluable thoughts of a great man named Rabindranath. If I say, the novels are not priceless, the thought is priceless. That would not be much praise. But what we mean by the novel, the relationship and conflict of the state or the system with the life of the individual, has come up very significantly in the novels 'Gora' and 'Ghare Baire'.
In Rabindranath's novels also, as a writer, I find compassion, sympathy, empathy. Rabindranath wrote 'Chokher Bali' continuously, his mark is in that novel. Just like our television series, episode after episode seems to be written to drag on. Rabindranath wrote in the introduction to 'Naukadubi' the reason for writing 'Naukadubi'. 'Publisher's Urge.' He said, he had no urge to write the story, he wrote under the pressure of the publisher. Psychological was a cruel but painful 'suffocation of a colossal mistake.' This is a breath or key you must read.
Lavanya met Amit in Shillong, through a car accident. In the preface to 'Chokher Bali', he also stated that his novels were written to 'provide monthly feasts'.
The main drawback of Rabindranath's novel, for me, is that the husband and wife talk too much and too heavily.
A thought of Rabindranath is very valuable. Which can be identified as the reason for the downfall of socialism. Rabindranath forbade seeing man as a machine. In his words:
'Nowadays Europe is verifying all human things from the side of science, the discussion is going on as if human-matter is only physiology or biology, or psychology, or major sociology. But don't forget that man is not a theory, but that man is going beyond theory to infinity for your sake.' This is the dialogue of Patra from Rabindra's novel, but the protagonist is actually delivering Rabindranath's speech. As when Gora came to know that he was not a Brahmin, but an ignorant child who had been picked up, his realization: 'Do you understand me correctly? What I wanted to be day and night, but could not be, today I have become. I am an Indian today.
I have no conflict between Hindu-Muslim-Christian community. Today all caste of this India is my caste, everyone's food is my food. See, I have traveled through many districts of Bengal, entertained even in the lowest country—I have only spoken in town meetings, mind you—but by no means sat down with all the people, so long have I wandered about with an invisible gap with me, nothing. I could not pass it. That's why there was so much emptiness inside my mind. I have tried to deny this emptiness in many ways, I have tried to make it more beautiful by doing various crafts on this emptiness. For I loved India more than life—where I could see her, I could not at all tolerate any room for complaint. Pareshbabu, I am saved from the futile attempt to make all those crafts today.' Whose understanding is this?