I just love all the online boutiques that fill the internet these days. With their selection of unique but super stylish clothing and accessories, there is little reason to leave my house to go shopping for myself ;). I found a darling shop called Ruthie Grace Boutique and was lucky enough to review some really amazing items!
"Hey there beautiful! We are Ruthie Grace Boutique! Most days you can find us hustling around the store in yoga pants unpacking and merchandising beautiful clothes. We are known for our expertly styled clothing, top of the line customer service, and our uncanny ability to constantly misspell words. Women who shop with us like to refer to themselves as #regularruthies. It's a pretty exclusive group of amazing women and we want you to join our club! We love providing you with clothes that build you up to the woman we know you are! We are deeply passionate about all of our customers and we can't wait to meet you!"
ALSO READ: VISIT
I know what you are thinking……online clothes shopping can be tricky (and I hear ya). But every piece I received from Ruthie Grace Boutique lived up to my expectations!! Not only are they great quality, but the sizing was spot on and that is a BIG DEAL! I received the Grayson Dress, a pair of skinny jeans, and a casual T-shirt, and I could not be happier with my selection.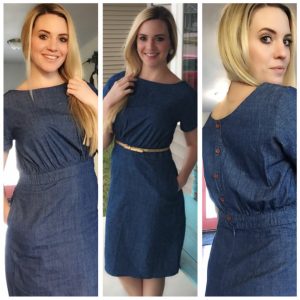 The Grayson Dress is the ultimate dress for moms who want to be modest but still be super stylish. Denim is in this year and that is what you get with this dress. The length goes just past my knees and the neck rise is high without being too much. I don't have to worry about anything hanging out when I sit or lean over and I love that! This dress is fairly fitted and is cinched at the waist so it highlights my figure just a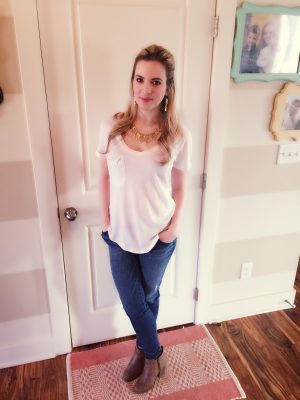 bit. The back has cute buttons that add the perfect touch to any already perfect dress. What I love most about this dress is that it is perfect for church, a dinner out with the hubby, or just a casual day out shopping and running errands. Pair it with a belt to dress it up a bit or leave it as is….either way, you can't go wrong with the Grayson Dress. Lucky for you, it is also on sale this week!!
ALSO READ: VISIT
The JD Uma Barcelona Skinny jeans have got to be my favorite pair of skinny jeans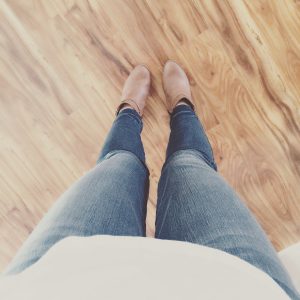 EVER! That's right….I said EVER! They are a medium wash with a bit of distressing but not too much. They also have the perfect amount of stretch to them….just enough to give me a close fit without looking like they are jeggings. These are real jeans people. Typically I am a leggings/yoga pants mom, but I've been wearing these jeans a whole lot and I am hooked. Skinny Jeans are so versatile. I plan to wear these 
all year long with blouses, T-shirts, ankle boots, and even flip flops. Everyone needs a great pair of skinny jeans and the JD Barcelona Skinny jeans are IT!
ALSO READ: VISIT
Last but not least, I received a pretty awesome T-shirt to go with my jeans. I love that loose Tees are so trendy these days. They are perfect for busy moms on the go and the short sleeve Pocket Tee from Ruthie Grace Boutique is no exception. The material is super breathable so it's perfect for warm weather, but it also looks great paired with a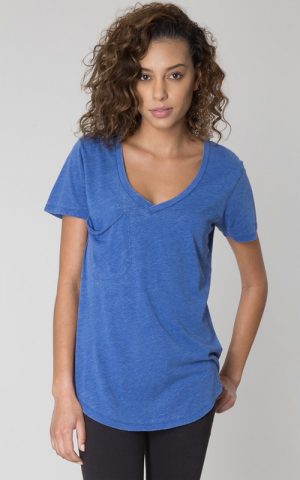 cute jacket. The Pocket Tee comes in 5 different colors, and I think I need one of each!
If you are looking for a women's boutique that offers a great selection of trendy fashion then look no further. Ruthie Grace Boutique is a high quality shop that will keep you looking great all year long!! Right now you can get free shipping with code: 'BRAGGINGMOMMY'
Ruthie Grace Boutique gets BRAGGING RIGHTS!!
One lucky winner is going to win a $50 GC to Ruthie Grace Boutique! Enter via the giveaway widget below:
MORE READ: VISIT