The World Cup has a shocking World Cup story and this time it concerns the football. It began with Lionel Messi creating another record for Argentina and ended with the superstar staring disconsolately into the middle distance after Saudi Arabia staged a stunning upset to end the Copa América holders' 36-game unbeaten run.
A stupendous strike from Salem al-Dawsari, moments after Saleh al-Shehri had cancelled out Messi's early penalty, brought Saudi Arabia a victory that left the Lusail Stadium buzzing with an audible sense of disbelief long after the final whistle. The Saudi Arabia bench poured on to the pitch when the Slovenian referee Slavko Vincic finally ended their torment after eight long minutes of stoppage time. The captain, Salman al-Faraj, helped off injured in the first half, hobbled back on with crutches to join the wild celebrations.
The victors were not the only ones struggling to comprehend the magnitude of their achievement, as the face of Argentina's players and supporters illustrated. One of the favourites are in serious trouble.
Argentina's 18th World Cup was their first since Diego Maradona died almost exactly two years ago. "It's strange not to see him in the stand, not to see people going crazy when he appears," said Messi, Maradona's successor in the No 10 shirt. "He loved the national team. He always was and always will be with us from somewhere." He was everywhere at the vast Lusail Stadium. The No 10, with either Diego or Messi printed above, dominated the crowds that finally brought a party to the World Cup in the buildup to Argentina's opening game. Maradona's face filled many of the flags and banners draped inside the 88,966 capacity arena that will stage the final on 18 December. It is Messi's burning desire, and all of Argentina's, that he will be there for one last shot at embellishing his historic career with the crowning glory. The ambition is already in jeopardy after an increasingly desperate display.
Lionel Scaloni's side had signalled positive intent from the first whistle. An impressive Argentinian support were almost rewarded with the perfect start when Messi, ghosting into the area and on to to a touch from Lautaro Martínez, forced Mohammed al-Owais into a fine low save with only 96 seconds gone. They did not have to wait much longer for the moment they craved.
Vincic suddenly halted play after a Messi free-kick had been punched clear by the Saudi Arabia goalkeeper. Saudi hearts sunk as he sprinted over to the pitch-side monitor to watch a replay of Saud Abdulhamid wrestling Leandro Parades to the ground at a corner seconds earlier.
It was a clear, VAR-guided penalty. Messi walked up to the spot, waited for Owais to commit himself to the left, and rolled a nonchalant penalty to the keeper's right. In doing so, Messi became the first Argentina player to score at four World Cup tournaments – 2006, 2014, 2018 and 2022 – and the fifth man in history to achieve the feat.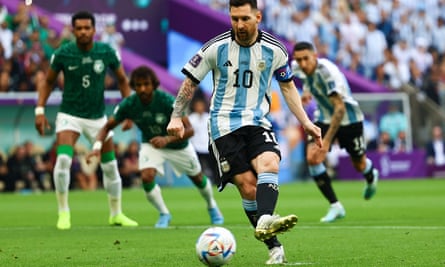 The script was writing itself but slowly, forcefully and impressively, Saudi Arabia ripped it up. Hervé Renard's team were backed by a boisterous mass support of their own and showed in their immediate response to falling behind that they possessed the energy, organisation and adventure to unsettle their lauded opponents. Their commitment to a high defensive line, however, was a high-risk strategy that almost played in Argentina's hands.
Argentina had three goals disallowed for offside in the space of 13 first-half minutes. Messi was clearly off when played through by Alejandro Gómez and beating Owais with a measured finish. Martínez was also offside when rounding the Saudi Arabia keeper and converting Messi's through ball. The Internazionale forward was desperately unlucky for his first and Argentina's second offside goal, however.
VAR replays showed Martínez's shoulder a fraction ahead of Abdulhamid as he raced on to Rodrigo De Paul's defence-splitting pass. But, to the naked eye, the left-back Yasser al-Shahrani was playing Martínez on and he did not appear on the VAR replay shown to the crowd.