With Antivirus dominating the commercial product industry, Kaspersky holds a substantial position in this market. Kaspersky products include internet security, computer antivirus, office security programs etc..
Recently Kaspersky Antivirus 2010 was released as a trial version and as assumed, most of the people grabbed there Kaspersky copy for the latest updates and security addition that were involved.
For those of you who are looking for solution – Here I'll suggest an easy tip to remove trial version of Kaspersky antivirus 2010 from your computer:
Uninstall/Remove Kaspersky Antivirus 2010
Before we remove Kaspersky 2010 from add/remove program, close the Kaspersky antivirus window properly (if at all it is running on your system right now) and exit it from the task quick icons menu.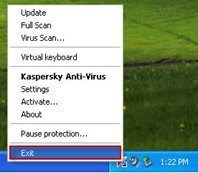 Now with the usual process, go to control panel from the start menu -> add/remove programs and uninstall Kaspersky antivirus 2010. If you are unable to locate this in the list of installed application then navigate to program files directory. Ex:
C:Program Files
Where you will find folder named as Kaspersky or Kaspersky lab, delete the whole folder and restart your system.
There are also free tools such as Kaspersky Antivirus Removal 2010 which are specially built to remove Kaspersky from the system but the above process takes up least effort for the uninstallation.