Cost of living latest as Britons face a collapse in living standards, higher bills, tax hikes and increased unemployment as the economy slumps into recession. You can also submit a cost of living dilemma for our experts using the form below.
Dog ownership is a £20,000 lifetime commitment – research
Those adopting a new dog should be prepared for an average £20,000 lifetime commitment, new research has revealed.
The cost of living crisis is a major concern for pet owners, with reports of animals being surrendered to pet shelters and vets increasing nationwide.
The RSPA has reported a 17% increase in abandonments from 2021 to 2021 – and a 24% increase in 2022.
Pet food company ProDog Raw found the cost of raising a dog from ranged from £18,414 for smaller breeds, to £22,905 for a larger animal.
Medium dog breeds – such as Border Collies, Beagles and Springer Spaniels – cost the most on average, at £22,905 during their lifetime.
Large dogs – such as Great Danes, Newfoundlands and St Bernards – came in at a slightly lower cost of £21,351 on average, mostly due to their shorter lifespan.
Toy and small breeds were found to be the cheapest dogs to own, costing £18,414 on average during their lifetime.
Most shoppers 'will do more research than usual ahead of this Black Friday'
Around 60% of British shoppers plan to spend more time researching and comparing prices ahead of Black Friday this year, a survey has found.
A third say they have regretted not being better prepared ahead of key sales, the data shared by Vodafone suggested.
Psychologist Dr Linda Papadopoulos said: "People are considering their purchases much more now than they have in a long time.
"The cost of living crisis has transformed our shopping habits, with shoppers now wanting to prepare ahead and look for even more ways to make their money go even further."
When it comes to the latest tech, half of the 2,000 people surveyed said they consider the future value of the device they are looking to purchase, whether that means reselling or trading in for an upgrade in the future.
Max Taylor, commercial director at Vodafone UK, said: "We know our customers are looking out for the best possible deals, now more than ever."
Five-year fixed average mortgage rate drops below 6%
There may well be a glimmer of hope for homeowners in the UK today, as the five-year fixed average mortgage rate has dropped below 6% for the first time in seven weeks.
It may not be time to celebrate quite yet, however, as experts believe there is still a long road ahead.
This is the situation at the moment…
Average two-year fixed rate – 6.13% (down from 6.47% in November)
Average five-year fixed rate – 5.95% (down from 6.32% in November)
Rachel Springall, a finance expert at moneyfacts.co.uk, said: "Borrowers may well breathe a sigh of relief to see that fixed mortgage rates are starting to fall, but there may be much more room for improvement.
"As the average five-year fixed mortgage rate falls below 6% for the first time in seven weeks (5 October 2022 – 5.97%), borrowers who paused their home ownership plans, or indeed parked the idea of refinancing, may now be tempted to scrutinise the latest deals on offer.
"After the fiscal announcement (23 September 2022) the average two- and five-year fixed mortgage rates rose sharply, but they are edging further away from their daily peak (20 October 2022).
"However, it is worth noting that rates could fall further still, but there is no clear answer as to how quickly that may be."
Disabled people 'at breaking point' over cost of living
A man with multiple sclerosis has called on the government to increase financial support for disabled people who are at "breaking point" as the cost of living soars.
Martin Pridgeon, 44, from Grimsby, Lincolnshire, has secondary progressive multiple sclerosis (MS) and struggles to cook, clean and do household chores on his own.
However, he said he is forced to choose between paying for a carer or his medication, which is not available on the NHS.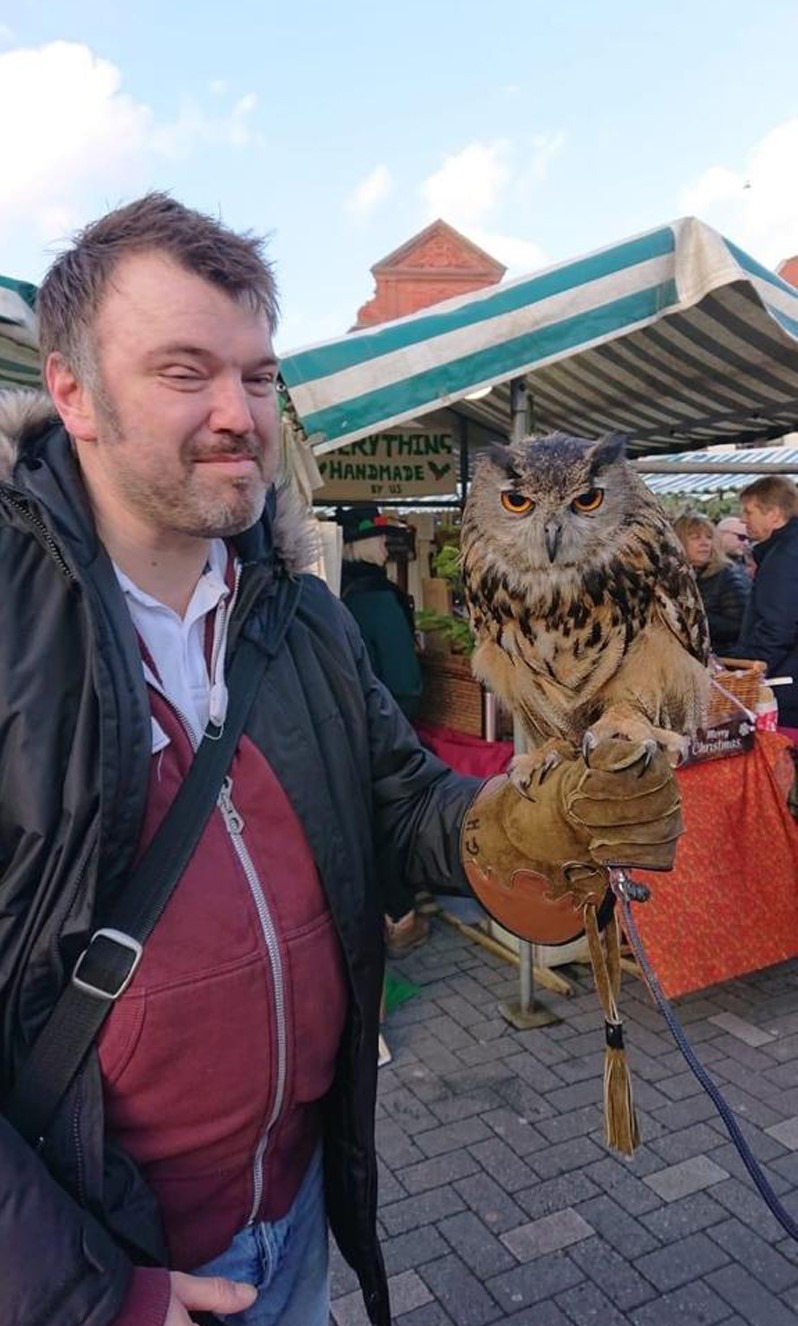 Mr Pridgeon said: "Disabled people are at breaking point and stuck in a catch-22 situation because of the rising cost of living.
"The support that has been publicised in the autumn statement is all very well but why do we have to wait months to get it?
"Winter is coming, it's getting colder and the price of heating, food shops and bills are going up.
"Disabled people urgently need the support right now."
Mr Pridgeon, who is medically retired and receives Personal Independence Payment (PIP) benefits, is unable to afford a carer because he has to spend £200 a month on the drug fampridine, a symptom management treatment for MS that is not currently available on the NHS in England.
He first started taking fampridine, which aims to improve walking and help manage fatigue in adults with MS, during a four-week trial which he said left him feeling "wonderful".
Ofgem right to 'hold energy companies to task'
The energy regular is right to "hold energy companies to task", Citizens Advice has said.
This morning, Ofgem accused firms of failings across the board, and said they need to do more to help vulnerable customers ahead of a challenging winter.
Gillian Cooper, head of energy policy at Citizens Advice, said: "Given the enormous pressures facing people this winter, energy suppliers should be doing everything in their power to identify and support struggling customers.
"Citizens Advice sees day in, day out the heartbreaking consequences when this support falls short. People cutting back on food and essentials to cover energy debts and living in cold and dark homes when they've simply run out of money to top up their meter.
"Ofgem is right to hold energy companies to task, it must now ensure this review leads to concrete action."
How to stay safe online while Black Friday shopping
Black Friday sales are already under way in some parts of the internet, but tempting offers will likely amp up in volume throughout the week to come.
But while you're browsing for bargains, online safety expert Chris Bluvshtein has shared tips to avoid scammers and hackers over this busy period.
Here are his top 10 pieces of advice…
Stick to websites you know
You might be tempted by a Google link promising an amazing deal but before you click, look at the name. If it's not something you recognise, don't go there. Hackers can use similar names to high-street brands to trick you into giving up your data so double check the site is the one you know.
Check the URL bar
Every website should have a valid security certificate and you can tell by the little padlock icon next to the URL. If a website doesn't have one of these then don't give your bank details or valuable information.
Check your bank statements
You might not even be aware of your details being stolen until it's too late, but by making it a habit to check your account and statements you'll be able to catch any suspicious activity early on.
Use a password manager
The safest thing you can do is use a unique, randomised password for all your accounts. But instead of writing those down on post-it notes or in notebooks, use a password manager to keep them all in one place.
Don't shop on public Wi-Fi
You might be tempted to hop onto your favourite shopping site while having a coffee at your local café, but that public wi-fi connection is extremely dangerous to use. Public wi-fi rarely has safety protocols such as passwords in place and hackers can piggyback and steal unsecured banking details and sensitive information without you knowing.
Use mobile payments
Apps like Apple Pay and Google Pay can protect your banking details so if a website accepts them, it's best to use them instead of your debit card.
Use a credit card
If something is high value, don't use your debit card to pay for it. Consumer law in the UK means that you could get refunds or claim your money back if your credit card is stolen.
Set up a temporary bank account
By opening an online only bank account such as Revolut or Monzo, you can control the amount of money you have access to with transfers from your usual account. This way, even if your details are compromised, the hacker can't do anything to your real bank account.
Use a VPN
A VPN protects your data from prying eyes. Everything you send is encrypted so even if a hacker can see you on a network, they won't be able to access your sensitive information.
If it seems too good to be true, it probably is!
Be careful with any adverts for amazing deals. You might never get the item or there could be hidden dangers.
More than a million to get £324 payment from tomorrow
More than a million families receiving tax credits will receive their second cost of living payment from Wednesday.
The £324 cash boost will be paid automatically into bank accounts of those eligible between today and next Wednesday.
It forms part of the government's £37bn cost of living package for households, including £400 for help with energy bills.
Angela MacDonald, HMRC's Deputy Chief Executive and Second Permanent Secretary, said: "This second Cost of Living Payment will provide further financial support to eligible tax credit-only claimants across the UK.
"The £324 will be paid automatically into bank accounts, so people don't need to do anything to receive this extra help."
With this payment, more than eight million households will have received a cost of living cash boost by 30 November.
The first payments of £326 were made to eligible families in July and September.
Are free returns a thing of the past?
Fashion giants Boohoo and Zara have ditched free online returns, perhaps marking the beginning of the end of the practice.
H&M is also considering charging for returns, the Retail Gazette reports, while research shows 25% of the 200 leading online retailers are already asking customers to fork out.
ReBound, a returns specialist, claims around one in three fashion items bought online are eventually returned.
It is thought this is around double the rate of shop-bought products.
Last month, Asos said its returns rates rocketed to pre-COVID levels from May onwards.
While Boohoo said its returns were "up significantly" in 2022. It now charges £1.99 per returned parcel.
DHL said £653bn of products were returned in 2021 alone.
'I was suicidal': Loan sharks pose as friends to trap victims in cost of living crisis
Families facing up to the spiralling cost of living are being targeted by predatory loan sharks who pose as friends and even use social media influencers to trap new victims.
It is estimated more than a million people are in debt to illegal money lenders, a number that has trebled in the past decade.
Investigators are concerned that the rising cost of living will push people who would not normally seek an underground loan to do just that.
Tony Quigley, head of England Illegal Money Lending Team, said: "One of the things we're fearful of obviously is with the current situation around energy prices and inflation is that more people will be tempted to use this type of lender."
Illegal lenders are increasingly operating on social media to entice and then exploit victims, sending threatening messages and shaming and manipulating them on group chats.
You can see more from our North of England correspondent Greg Milam in the video at the top of this post.
Supermarkets 'taking advantage of customers' with fuel prices 'higher than they should be'
Supermarkets are "taking advantage" of drivers with rip-off fuel prices, according to a motoring group, which is demanding a 5p a litre cut for both petrol and diesel.
The RAC said prices were "far higher" than they should be and fail to reflect a plunge in wholesale costs.
It issued the accusation as hopes for some relief at the pumps rose through a plunge in oil prices on Monday.
The RAC said supermarkets' profit margins were around 15p per litre last week at average prices of 161p per litre for petrol and 184.4p for diesel.
This is only 2p per litre lower than the average covering all UK forecourts.
Supermarkets have historically charged around 3.5p per litre less than the UK average.
But that changed last year when pandemic restrictions ended and oil prices recovered – the latter pushed even higher this year by the effects of the war in Ukraine.
Tesco becomes latest supermarket to ration eggs
Tesco has become the latest supermarket to ration the number of eggs customers can buy – after last week assuring customers it had good availability.
Shoppers are limited to buying only three boxes of eggs. Asda (two-box limit) and Lidl (three-box limit) moved on this last week.
Why is this happening?
UK poultry farmers are facing rising costs for chicken feed and energy – and are also tackling an outbreak of bird flu.
After some supermarket restrictions were announced last week, the director of food and sustainability at the British Retail Consortium (BRC), Andrew Opie, said: "While avian flu has disrupted the supply of some egg ranges, retailers are experts at managing supply chains and are working hard to minimise impact on customers.
"Some stores have introduced temporary limits on the number of boxes customers can buy to ensure availability for everyone."
Energy firms accused of 'failings across the board' ahead of 'very challenging winter'
By Megan Baynes, cost of living reporter
Energy suppliers need to do more to help vulnerable customers this winter, the industry's regulator has said, with "severe weaknesses" found in the practice of five suppliers.
Failings included customers missing out on free gas safety checks, vulnerable customers not being offered the support they need, and ensuring those on prepayment meters are identified and supported.
Other issues included setting debt repayments so high that customers could not top up their prepayment meters.
Although some good practice was identified, all 17 suppliers need to make further improvements.
Good Energy, Outfox, SO Energy, TruEnergy, and Utilita were judged the worst by Ofgem.
Moderate weaknesses were found in E (Gas & Electricity), Ecotricity, Green Energy UK, Octopus, and Shell.
Minor weaknesses were identified in British Gas, Bulb, EDF, E.ON, Ovo, Scottish Power, and Utility Warehouse. This means Ofgem did not find any evidence of significant concern.
Over-55s are delaying retirement due to economic outlook
Around a fifth of those aged 55 and up are postponing retirement due to economic fears amid the UK's cost of living crisis, new data shows.
The research, from the TotalJobs Hiring Trends Index, also reveals that one in three people in this demographic are increasingly worried about not having enough money to retire.
Meanwhile, around 34% of employers have admitted they do nothing specific to help retain staff members who are over the age of 50.
Asked specifically what action is taken, 21% of employers said they had dedicated support to help their employees plan for retirement.
But only 19% offered pay rises in line with inflation, while 16% had flexible working options and 8% had access to private healthcare.