Google's Orkut.com are not only revamping application but also there's a drastic change in the layout and design. One such addition is the advanced orkut home search that enables orkut users to filter Search results by country and find similar topics quite easily.
Orkut also took action on adult content by cleaning them up. Even spammy orkut accounts are less frequent now. You won't be able to see adult or spam accounts in your suggestion as the safe search filter on every orkut profiles is enabled by default. You can also disable Safety Search filter by visiting your Orkut's General setting area, there you have to check show all content option!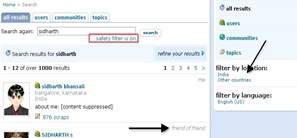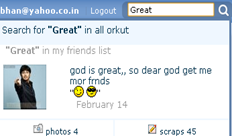 The new Safety filter for content eliminates adult content from search result pages. Also there's a warning message about explicit content which wasn't available previously! The advanced Orkut Search tracks your current location and displays the relevant results (local search results). You can filter the advanced safe filter search option and also choose to display orkut profiles & communities from different countries. Another change is the elimination of searching your orkut friends from Friend list — just type the name of your friend in the orkut home page search and you will find your friend profile link.
This feature is already available on Facebook.