Kamal Kadir worked one summer at a private equity firm in New York. However, it did not take long to realize that it could not be his workplace.
This is how Kamal Qadir, the current Chief Executive Officer of Development, told the story of his life in a recent conversation with students, faculty and alumni at the Martin Trust Center for MIT Entrepreneurship. 'I'm not exactly the kind of person to work on Wall Street. Realized that I have to do something where I feel connected, where I can enjoy what I do. So I came back to Bangladesh.'
After returning to the country, Kamal Qadir first created an online trading platform, Cell Bazaar. Then in 2011, he founded Bikash, a mobile financial services company.
In March this year, Kamal Qadir visited the Massachusetts Institute of Technology (MIT). There he talks a lot about development. Bikash is the only unicorn in the country, the company whose market value is 1 billion dollars or more.
But Kamal Qadir makes it clear that achieving unicorn status or other achievements is not the key to the development story, rather the financial inclusion of people is at the core of all development activities.
Kamal Kadir originally studied art and economics at Oberlin College, USA. After completing his studies and returning to Bangladesh, he decided to do his post-graduation in a different subject. He then applied to several business schools, including MIT's Sloan. On Valentine's Day in 2003, Kamal Kadi received a phone call from Rod Garcia to learn that he had an opportunity to attend MIT. Kamal Qadir was very happy to hear that news.
Rod Garcia served as Assistant Dean of Admissions at MIT Sloan for 33 years. Kamal Kadir said Garcia saved his life. He fondly remembers his former student. Garcia remembers many of the 14,000 students admitted to MIT during his tenure.
"MIT Sloan is a very small place," says Rod Garcia. As a result, whether it is a student or an administrator, everyone gets a chance to understand each other well. This became especially true in my case. These relationships last even after graduation.'
About Kamal Kadi, Garcia said, 'Kamal is a living example of principled and innovative leadership. He always tries to do good to the world. From cell market to development, his innovative leadership has benefited lakhs of people outside the reach of the bank.'
Kamal Qadir told Trust Center guests that MIT's MBA helped them break out of an endless cycle.
From studying at Oberlin College, to working in New York, to coming to Bangladesh, he always felt the urge to 'do something'. Sometimes he got success.
Kamal Qadir said, 'After graduating from MIT Sloan, I realized, "I have to do something" – I need to stop trying and figure out what I really want to do. That's why I just wandered around for three months after graduation, nothing else.'
Kamal Qadir has traveled to Africa and South Asia for these three months. At that time he realized several things.

The power of financial inclusion
During this trip, Kamal Kadir met a man by chance on the ferry. There he was selling fish to passengers as well as haggling over the phone; But the seller was just lowering the price. Seeing this incident, Kamal Qadir asked him, what is the matter.
The man replied, 'There are no buyers here after seven in the evening. I am not a fisherman, I buy fish from the local market and sell it to the vendors.' After listening to him, Kamal Qadir felt that it is possible to create a market in this way. Anyone can create their own market with a $15 Nokia phone.
From that realization, Kamal Qadir thought of providing mobile banking services to the underprivileged, who would be connected to the national and international economy.
Kamal Kadir said, 'There was no financial service for the common people of Bangladesh. There were only eight lakh plastic cards in the market of 17 crore people. So I was trying to figure out how to bring financial services to all people. Where everyone has an account and can do everything from saving money to transferring and receiving money. Apart from this, the Bangladesh government also insists on doing everything digitally.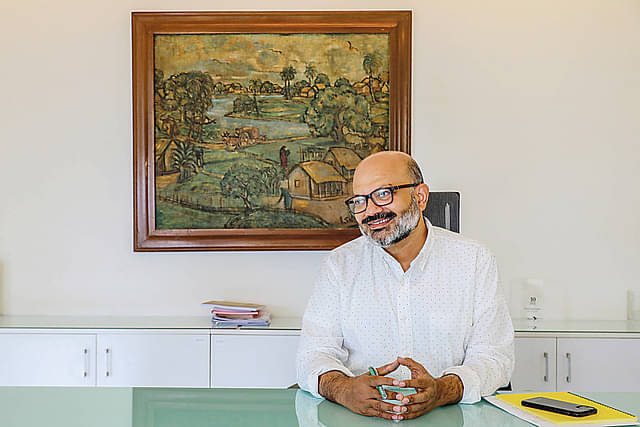 From there the development was born. Today, after a decade of development, the people of the country are transacting more than 1 crore 3 million on an average daily. Without traditional branch banking, Bikash has created a large network of 330,000 agents across the country. They act as 'human ATMs'. They convert paper money into digital money and vice versa. With the welfare of these two common issues common people have come under the financial inclusion through digital means.
Besides agents, Bikash has five lakh merchants across the country. They buy and sell digitally as well as cash. "People have been empowered, especially women… 46 percent of our customers are women," Kamal Kadir said.
Bikash works under the regulatory body Bangladesh Bank. BRAC Bank has a big investment in it. There are also investments from International Finance Corporation, World Bank Group, The Bill and Melinda Gates Foundation, Alibaba Ant Financial and Softbank Vision Fund. By 2021, the market value of development was more than 200 billion dollars. And all these things have become possible due to the availability of cell phones. Along with that, there is the empowerment of people who are outside the reach of the bank.
Kamal Kadir said, 'Most people in Bangladesh do not use smartphones. When I came to MIT 12 years ago, everyone was talking or using smartphones without thinking about perspective. If we were limited to smartphone apps, only the well-to-do people of the society would have used our services. It would not have done what I wanted to do.'
Fertile land of financial inclusion
The Himalayas are several hundred miles north of Bangladesh. Nevertheless, the ecological and economic impact of these mountains in Bangladesh is significant.
Bangladesh is a land of fertile alluvium, a part of which comes from the Himalayan Mountains. A large part of the country is the Gangetic Delta, the largest delta in the world.
The issue of financial inclusion came to Kamal Kadir's mind when he saw the Himalayas for the first time from a plane.
"To me, financial inclusion is a bit like that. Earlier the middle class used to earn money and deposit it in the bank, the bank would use it for development. Now the money of the poorest people of the country has also come in this system, that is also useful for economic development.
Finally, Kamal Qadir said, 'Due to financial institutions, economic sediments and water have spread across the country. It is happening consistently, all these things are contributing to the overall economy of the country.'