Weaves, extensions, and sew-in hairstyles can be a smart and stylish way to speed up the growth of your natural hair. A sew-in allows you to cover your natural hair as it grows. Unlike some glue-based weaves, these are truly sewn into your natural hair, resulting in less harm. To achieve half-up, half-down hairstyles with sew-ins, you will need to make an appointment at your nearest salon because it needs to be done by an expert. Here are 5 ways to style a half up, half down sew-in hairstyle that will make you the center of attention!
1. A Touch Of Gold To Your Curly Half-Up Half-Down Sew-In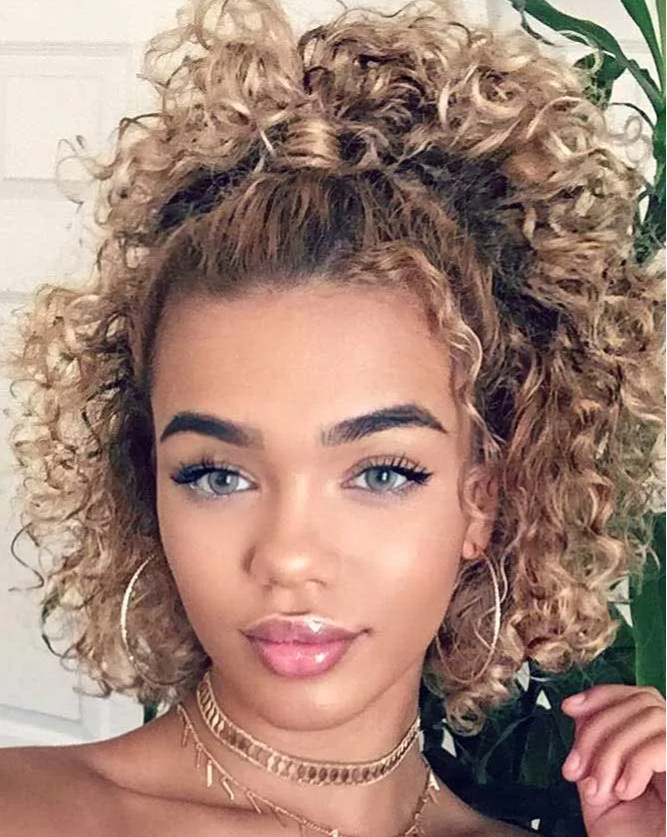 A touch of gold with a golden thread
Show off your gorgeous curly half-up, half-down sew-in weave hairstyle with a touch of gold. Wrap your curly half up with a golden thread; this styling method is great for any occasion, and you can wear it with any outfit. Apply a generous amount of mousse to your weaves and get a luscious look.
2. High Deep Curly Half-Up, Half-Down
Stunning high deep curly half-up, half-down hairstyle
Accentuating your curly half-up, half-down sew-in with a mousse is one of the best ways to style your look. Tie your half up into a high half-ponytail and wrap the ponytail with a small section from the weave hair. You can achieve beautiful hairstyles that are easy to style with this partial sew-in. The tracks won't be visible, especially for women with thicker and longer natural hair.
3. Half-Up, Half-Down Top Knot Sew-In With Split Bangs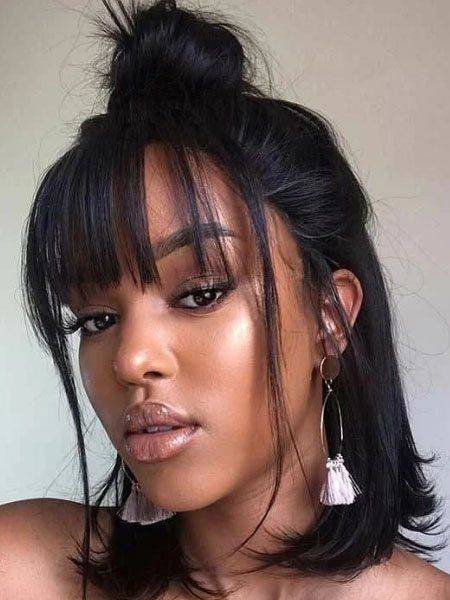 A top knot hairstyle with split bangs
Make an appointment at a hair salon and get this stylish top knot partial sew-in hairstyle with face-framing split bangs if you are not used to sewing-in weaves on your own. This top knot hairstyle offers a natural look and lasts up to 8 weeks. Follow these simplified steps to replicate this gorgeous hairstyle:
Create an ear-to-ear section and take out a thin line of sections. The latter will help cover the tracks.
Tie and keep the top section away and braid down the bottom half of the section.
Put a net on the bottom half after braiding and attach it by sewing it in.
Cut off the excess net.
Grab your weave hair and sew the bundles from the bottom up. Continue sewing the hair until you cover the entire bottom section.
Untie the top section and comb it using a hot comb.
Take a section of your hair on the top and tie it away; this section of hair will be used to create the split bangs.
Straighten the remaining hair with a flat iron, apply a hair mousse and tie it into a bun. Use edge control for a sleek look.
Use a small section of weave hair, wrap it around the bun, and secure it with bobby pins.
Hot comb, flat iron, and attach two pieces of glue hair to achieve length to the bangs. Trim the bangs with shear scissors for a natural look.
Once your split-bangs are customized, go ahead and style them according to your liking.
Pro tip: Create natural-looking waves with a curling wand or flat iron to your loose sections, and you are done.
4. Voluminous Loose Curls Hairstyle
Gorgeous loose curls with half-up, half-down sew-in
This voluminous and loose curly hairstyle is a great way to style your half-up, half-down sew in. Part your hair with a rat tail comb, then tie the top section away. Apply a strong hold styling gel around the parting and edges. Braid the bottom section of your hair and sew the short weave hair into the braids. Untie the top section and comb it; then attach a section of the weave hair. Secure the half ponytail with a hair tie. Emphasize the loose curls with a curler and set your beautiful half-up, half-down sew-in with hairspray. Show off this hairstyle with an off-shoulder top and hoops.
5. Half Ponytail With Waves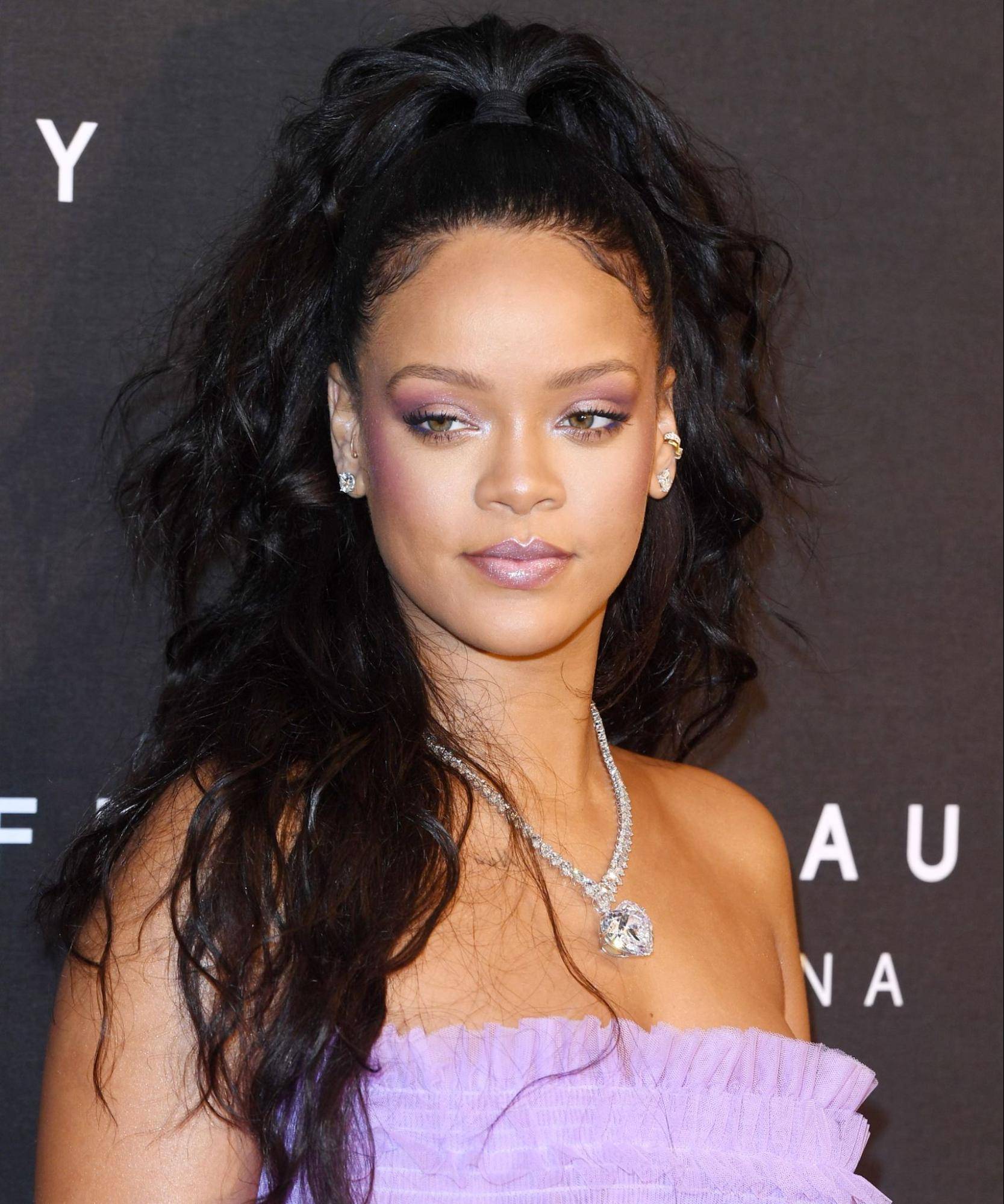 A half-ponytail with luscious waves
This is another way to style your half-up half-down sew-in. The half-ponytail with luscious waves is great for women of all ages. Follow the same sew-in method as mentioned earlier and achieve a perfect half-ponytail hairstyle. Create beautiful lustrous waves with a curler and set the look with hairspray.
Now you know the 5 ways to style your half-up, half-down sew-in and become the center of attention. Protect your natural hair while flaunting a semi-permanent hairstyle by sewing bundles of hair. Give your half up, half down sew-in a touch of gold with golden-colored thread or achieve beautiful long split bangs with weave hair.