Billing software
Billing software is a critical asset that helps finance teams automate mundane tasks related to payment accounting and billing. The lack of it can make invoicing a long-drawn process, costing you precious hours and money.
It's crucial to find the best billing software to enhance efficiency and boost productivity. This article looks at the top 11 billing software in 2023 to make it easier for you to decide. We will outline their features and how they can benefit your business. Keep reading to learn more.
What is billing software?
Billing software is a computer program that helps businesses manage their financial transactions, including invoicing customers and tracking payments. Your business can use the billing software to automate billing processes and make them efficient and accurate. Reports and templates help you keep track of spending, budgeting, and forecasting. Some billing software also come with analytical capabilities that drive informed decision-making.
Billing software come as a standalone application or even as a part of a larger enterprise resource planning (ERP) system. When choosing billing software, it is important to consider the specific needs of your business and select a solution that offers the features and functionality you require.
Ensure to consider reports, templates, and integrations with other business systems, such as accounting software, customer relationship management (CRM), and inventory management software.
Here are our picks of some of the best billing software in 2023.
Happay Invoice
Scoro
QuickBooks
FreshBooks
Wave
Tally Solutions
ClearTax
Square Invoices
Zoho
Vyapar
XERO
A quick glimpse at the top 11 billing software – comparative table
Billing Software
Market Segment
Top Features
Pros
Cons
Starting Price
Trial Period
Mobile Apps
Bill Pay Tools
Happay Invoice
Medium to large business

Complete visibility for invoices and vendor payments
Improved liquidity management

Reduces cost per invoice
Reduces compliance-related costs

Still a work in progress

Contact for quote
–
–
–
Scoro
Business Management

Customisable dashboard
Real-time progress tracking

All-in-one solution
Flexible and customisable

Not always intuitive
Limited integrations

$28 Per Month
14 Days Free Trial
Yes
Yes
Quickbooks
Small Business

User-friendly interface
Report generation

Software integration
Customized plans

Expensive software
Usage complexity

$15 Per Month
30 Days Free Trial
Yes
Yes
Freshbooks
Invoicing

Mobile app
Data backup

Software integration
Strong customer support

More expensive than others
Scalability issues

$4.50 Per Month
30 Days Free Trial
Yes
Yes
Wave
Small Business

Automated expense categorization
Online payment of bills

Intuitive design
Affordable price point

Limited customisation
Stability issues

Free plan
NA
Yes
Yes
Tally Solutions
Small & Medium Business

Integrated accounting and inventory management system
Comprehensive sales and purchase management

Customizable platform
Free trial

Expensive software (multiple licenses)
Only online mode

$7.50 Per Month
7 Days Free Trial
Yes
Yes
ClearTax
Tax and Business

Online tax filing
E-invoices with GST compliance

Accessible from anywhere
Tax optimisation and tax planning

Expensive software
Less features

$12.49 Per Month
NA
No
Yes
Square Invoices
Business Management

Invoice branding and customization
Automated payment reminders

Cloud-based
Integrates with Square Point of Sale

User navigability issues
Expensive subscription plans

$20 Per Month
NA
Yes
Yes
Zoho
Micro Business

Multiple platform support
Smart software integrations

Everything from invoice creation to inventory tracking
Affordable plans

Complicated integrations
Tutorials need improvement

$9.50 Per Month
14 Days Free Trial
Yes
Yes
Vyapar
Small Business

Comprehensive GST solutions
Desktop and cloud versions

Tracks GST credits
Inventory management, CRM, and analytics

Costly subscription plans
Additional hardware infrastructure requirements

$24.99 Per Month
15 Days Free Trial
Yes
Yes
Xero
Grow Business

Automatically reconciles bank transaction
Seamless expense tracking

Cloud-based
Affordable subscription

Not very feature-rich
Stable internet connection requirement

$12 Per Month
30 Days Free Trial
Yes
Yes
11 Best billing software in India
1. Happay Invoice
Happay Invoice is your ideal solutions if you are looking to simplify the process of making payments to your vendors. It is one of the best invoicing software and comes with advanced capabilities that allow you to add invoices and digitize the entire process. You can expect an accelerated vendor payments process that saves precious time and resources.
Furthermore, your accounts team can experience seamless invoice processing with inbuilt tools. Besides improving process efficiency, it will also allow your team to experience enhanced productivity. You can also be on the right side of the law with business-compliant processes.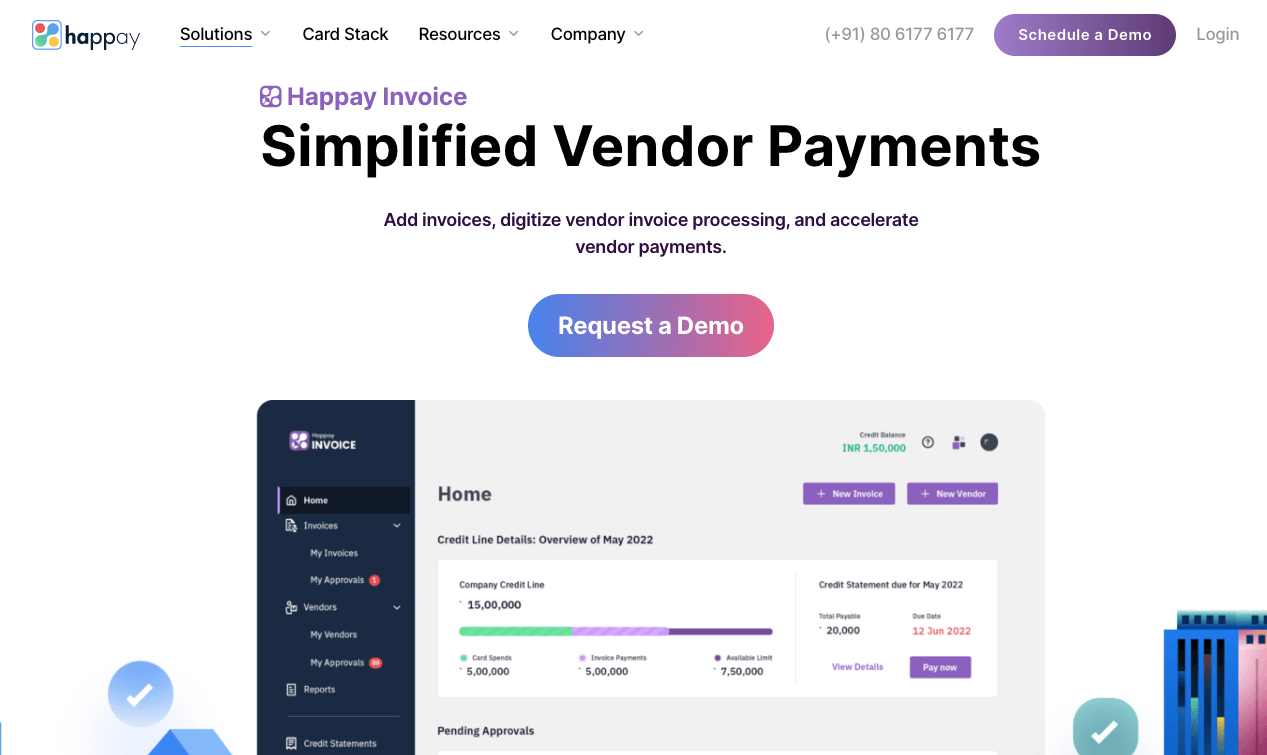 Features of Happay Invoice
Happay Invoice comes with a range of features that will redefine the way your finance teams processes invoices.
Let's take a look at them.
Get end-to-end visibility for invoices and vendor payments.
Get improved liquidity management and cash flow visibility with Happay's credit line.
Finish pending tasks timely through regular prompts and notifications.
Register vendors seamlessly by adding the necessary details.
Create a robust approval workflow to process invoices.
Why choose Happay Invoice?
Happay Invoice is a seamless invoice processing solution that allows you to do more in less time. The invoice templates offered by Happay are ideal for burdened finance teams looking to enhance process efficiencies and boost productivity.
Besides the operational benefits, there are financial benefits as well. You can improve the cash flow of your business by availing of the credit line feature of Happay Invoice.
Pros & Cons
| | |
| --- | --- |
| Pros | Cons |
| Reduces cost per invoice | Still a work in progress |
| Reduces compliance-related costs | – |
| Reduces late payment and related costs | – |
Pricing: Contact for quote.
2. Scoro
Scoro is an end-to-end work management software that helps businesses and professional service firms streamline their operations and boost productivity. It is an all-in-one solution that covers all aspects of work, from project management and task management to time tracking, invoicing, automated billing, and reporting.
It is suitable for businesses of all sizes and industries. With Scoro, you can plan and manage your projects in one place, get a real-time overview of your team's work progress, track billable and non-billable time, and generate accurate reports on your project's financials.
Features of Scoro
Scoro is an end-to-end work management software that helps teams better organise and manage their work.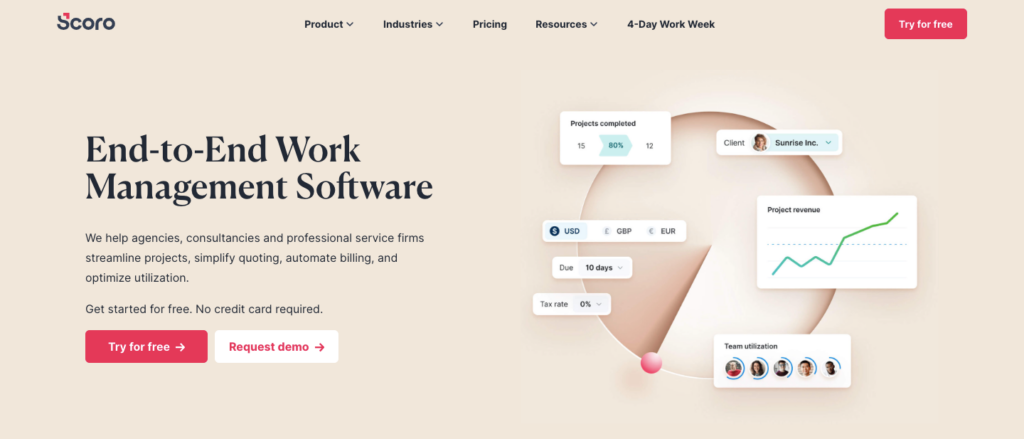 Here are some of its top features.
Its customisable dashboard gives you a clear overview of your team's work.
Stay on track with real-time progress tracking.
Improve teamwork with built-in tools for communication and file sharing.
Scoro's project management features can streamline and improve workflows.
Get insightful reports on your team's performance and progress.
Why choose Scoro?
Scoro is the all-in-one work management software that helps you get more done in less time. From project and task management to CRM and invoicing, Scoro gives you everything you need to run your business efficiently.
It helps you to streamline and optimise your workflows, saving you time and money. The software includes project management, task management, time tracking, invoicing, and more.
Scoro can help you boost your productivity and efficiency while giving you complete visibility and control over your work. It is an ideal solution for businesses of all sizes.
Pros & Cons
| | |
| --- | --- |
| Pros | Cons |
| It is an all-in-one solution for work management | The software is not always intuitive |
| Flexible and customisable to the needs of your business | Limited integration capabilities with other software |
| Easy to use for all members of your team | Limited customer support |
Scoro is a powerful, comprehensive project management software solution that offers flexibility and customisation.
Pricing: $28 Per Month
3. QuickBooks
QuickBooks is a popular accounting software used by small and medium businesses. It is a good option for businesses that need to track income and expenses, manage inventory, and generate invoices and GST reports. QuickBooks can track customers, vendors, employees, and other important data points.
The software includes several features that make it easy to use, including creating custom reports and exporting data to Excel or other spreadsheet programs. QuickBooks online also offers integration with many third-party applications, making it possible to extend its functionality beyond basic accounting.

Features of QuickBooks
QuickBooks is accounting software that helps small businesses manage their finances. Some QuickBooks features include:
The ability to track sales and expenses
A user-friendly interface
The ability to generate reports
The ability to create invoices and track payments
Integration with other software programs
Why choose QuickBooks?
There are many reasons to choose QuickBooks accounting software for your business. It is a powerful and versatile tool that saves time and money. Furthermore, it can help you track income and expenses, manage inventory, and create financial reports.
As a leading accounting software for small businesses, it is used by millions of firms worldwide. QuickBooks is easy to use and you can customise it to meet your needs. It is also affordable and offers a free trial, so you can try before you buy it.
Pros & Cons
| | |
| --- | --- |
| Pros | Cons |
| It is user-friendly and easy to learn | QuickBooks can be expensive to buy and maintain, especially if you upgrade |
| It can handle everything from invoicing to expense tracking | The software can be complex for some users and may require training or help from an accountant or bookkeeper |
| You can integrate with other business software to keep your business data in one place | QuickBooks requires a stable internet connection |
| QuickBooks offers different pricing plans to meet business needs and budgets | – |
Overall, QuickBooks is a powerful and helpful accounting software program that can be a great asset for small businesses.
Pricing: $15 Per Month
4. FreshBooks
FreshBooks is accounting software designed specifically for small businesses. It is easy to use and can help you save time and money by keeping track of your finances in one place.
This software provides detailed reports on your income, expenses, and profitability. The information can help you decide where to focus your efforts going forward. FreshBooks also makes it easy to send professional-looking invoices.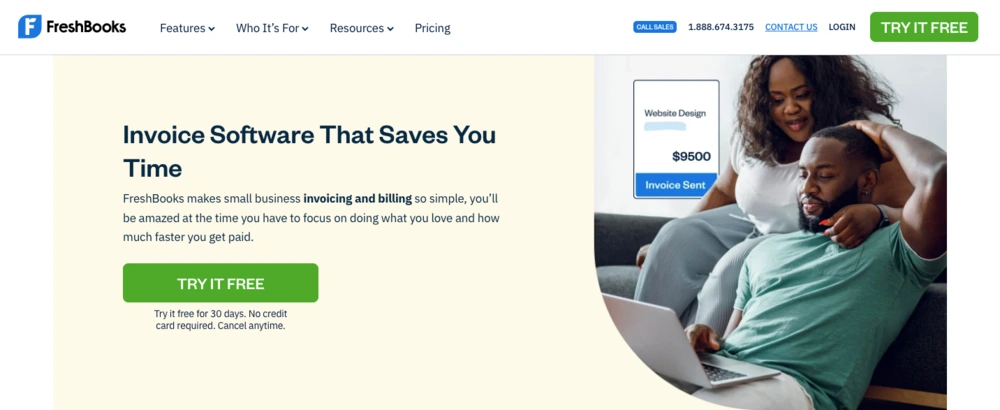 Features of FreshBooks
FreshBooks saves you time and helps you keep track of your money. Here are some features that make FreshBooks the best accounting software for business owners and accountants.
It is easy to use so that you can track your finances immediately.
The FreshBooks mobile invoicing tool lets you track your finances on the go.
It automatically backs up your data, so you never lose your financial information.
It uses industry-leading security measures to keep your data safe.
Project management is easy with FreshBooks. You can add projects, view their progress, and track time.
Why choose FreshBooks?
FreshBooks is cloud-based accounting software that makes tracking your expenses and income easy. You can also send invoices, get paid, and keep tabs on your business finances. And because it's cloud-based, you can access your account from anywhere, anytime.
FreshBooks has many features designed to save time and streamline your accounting. For example, you can automatically import data from your bank account, track mileage and expenses, and create custom invoices.
One of the biggest benefits of FreshBooks is that it is extremely easy to use, even if you have no prior accounting experience. The software is intuitive and user-friendly, so you can get started managing your finances right away.
Pros & Cons
| | |
| --- | --- |
| Pros | Cons |
| It is easy to use and great for small businesses and startups | It is more expensive than some other accounting software options |
| It has many features, including invoicing, time tracking, expense management, and project management | FreshBooks is hard to scale |
| It integrates with popular business applications like PayPal and Stripe | – |
| It has a strong customer support team that can help with any issues | – |
Pricing: $4.5 Per Month
5. Wave
Wave is an easy-to-use money management software that helps you keep track of your finances and make smart decisions with your money. The software helps you stay on top of your bills,